Apples-in-Cream Torte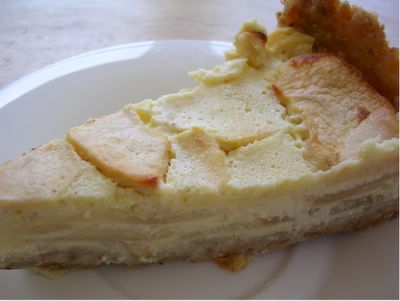 Ceyda will cook dinner for the mosque tomorrow, and I will help her and contribute dessert. When cooking for a crowd, it's always a good idea to do as much as you can in advance, so I spent several hours today baking 7 apple tortes for approximately 100 people. The recipe for the torte is from

Breads

by Cynthia Sheer of California Culinary Institute, a book I inherited many years ago from my sister-in-law. This is the kind of apple dessert that I love with lots of thin apple slices bound together with a minimum of batter. All good things come at a price, though, and in this case, preparation involved washing, quartering, coring, peeling and thinly slicing 2 big bags of McIntosh apples--a very tedious job even with Rana helping. I usually make a streusel topping for this torte, but this time I was lazy and baked them plain. The tortes are nicely wrapped and resting in the refrigerator now. I hope that they will taste even better the next day as most apple desserts do.

Filling:

4 medium-sized tart cooking apples, peeled, cored and sliced
6 oz cream cheese, softened
2/3 c sugar
1 tsp vanilla extract
1/2 tsp grated lemon rind
1/4 tsp ground nutmeg
2 eggs
1/2 c half-and-half

Pecan Press-In Pastry:

1 1/4 c flour
1/4 c finely ground pecans
1/3 c sugar
1/2 c cold butter, cut into pieces
1 egg yolk
1/2 tsp vanilla extract

Preheat oven to 400F. In medium bowl, mix flour, pecans and sugar. Cut in butter until crumbly. Beat egg yolk with vanilla. Stir egg mixture into flour mixture. (

Mixing the eggyolk into the flour mixture is not easy. I almost always end up doing it with my hands to be able to get a uniform dough. That makes me wonder if it would be easier to start with softer butter and just to mix everything with an electric mixer. I have to try it one time to see the difference in texture

.) Press dough together into a flattened ball. Press into bottom and halfway up sides of a 9-inch springform pan. Arrange apple slices evenly in prepared pastry shell.

In a medium bowl, beat cream cheese until fluffy; beat in sugar, vanilla, lemon rind and nutmeg. Add eggs, one at a time, beating well after each addition. Blend in half-and-half. Pour mixture over apples.

Bake in preheated oven until apples are tender, and pastry is well browned (45-55 minutes). Place pan on a wire rack. Cool before you remove the sides.